Semaglutide is approved for chronic weight management in qualifying patients. Semaglutide is a selective glucagon-like peptide-1 (GLP-1) receptor agonist that acts in the areas of the brain involved in regulation of appetite and caloric intake and slows gastric emptying. Only a single, small injection of Semaglutide is required at home each week. Contact Affinity today to learn more!
George Teetzel
2022-05-20
I was interested in my test levels and my body assessment. Zach Kile, my representative messaged me this morning and was able to get me in the office this afternoon. Not only was he helpful,but the guy was working while on vacation. Tell me that isn't dedication. Audra, my phlebosimist was also very friendly and super upbeat. Everyone there was friendly and seem to not only like people, but enjoy their job. I'm excited to see my results. I'm going on 30, so I figured it would be wise to get checked
John Schuerger
2022-05-18
I have been a client of Zach for approximately 2 months and have noticed increased energy , workouts and focus. Thankyou to the entire staff.
From the moment you walk in the door, you not only feel welcomed, but you can tell you're in the right place. In today's world of little to non existent customer service, Affinty Health did not get the memo. Everyone there is not only very pleasant, but knows their jobs. That makes you very comfortable, knowing you're in such great hands. This will make you feel better and you will probably avoid many future health issues, by taking control now. Life is short. Invest in yourself. We all could use more energy, drive, stamina and most importantly, we all deserve to feel better! I encourage both men and women to go see Zach and all the great people at Affinity Health! Trust the process, work hard and You will see results!!!
Anthony Gregorio
2022-05-10
Affinity has great customer service! Zach has been extremely helpful in answering the myriad of questions I have on a weekly basis. Testosterone therapy has side effects, and I have experienced some of them. Zach has been there every step of the way to help me make the right choices to be the healthiest I have ever been. Thanks!!
I am very happy with the professionalism from Zack and everyone at affinity I've dealt with and I'm ecstatic at the results I am able to achieve through their products and services! Highly recommended!
Thank you Zach for the wonderful service you provided. Very professional, knowledgeable and prompt. You listened to my concerns and addressed them, set expectations about treatment and then exceeded them. Also a thank you to Jane. After our video visit I really felt heard and again all my concerns were addressed and then fully explain the process and products that would help me the most. I can not say enough. I will bell informing other women I know that voice similar complaints to call Affinity Whole Health. Thank you, Shannon
I can't say enough good things about this entire practice. The people I've spoke to over the phone and met at the office were always nice and welcoming. Glen has also been extremely informative and responsive to all my questions. I have used other TRT practices in the past and was blown away with how professional and helpful this one was. I will be one of their clients for life. Keep up the great work. Thank you!
MEET OUR MEDICAL DIRECTOR, DR. KOEHLER
Dr. Michael Koehler is Affinity's Medical Director and a board-certified emergency medicine physician.  A native Texan, Dr. Koehler received his Doctor of Medicine from the University of Texas in San Antonio after obtaining his Bachelor of Science degree from the University of Notre Dame. Dr. Koehler completed his emergency medicine residency at Carolinas Medical Center in Charlotte where he also served as chief resident.  Following residency, Dr. Koehler provides quality emergency department care to thousands of patients in addition to supervising and educating medical students, residents, physician assistants, and nurse practitioners.
Dr. Koehler has a strong interest and experience with men's and women's hormonal therapy, peptide therapy and weight loss therapy.  He is also a member of the American Academy of Anti-Aging Medicine and holds a Certificate in Peptide Therapy.
In his spare time, Dr. Koehler enjoys weightlifting, watching football, and spending time with his wife and two sons.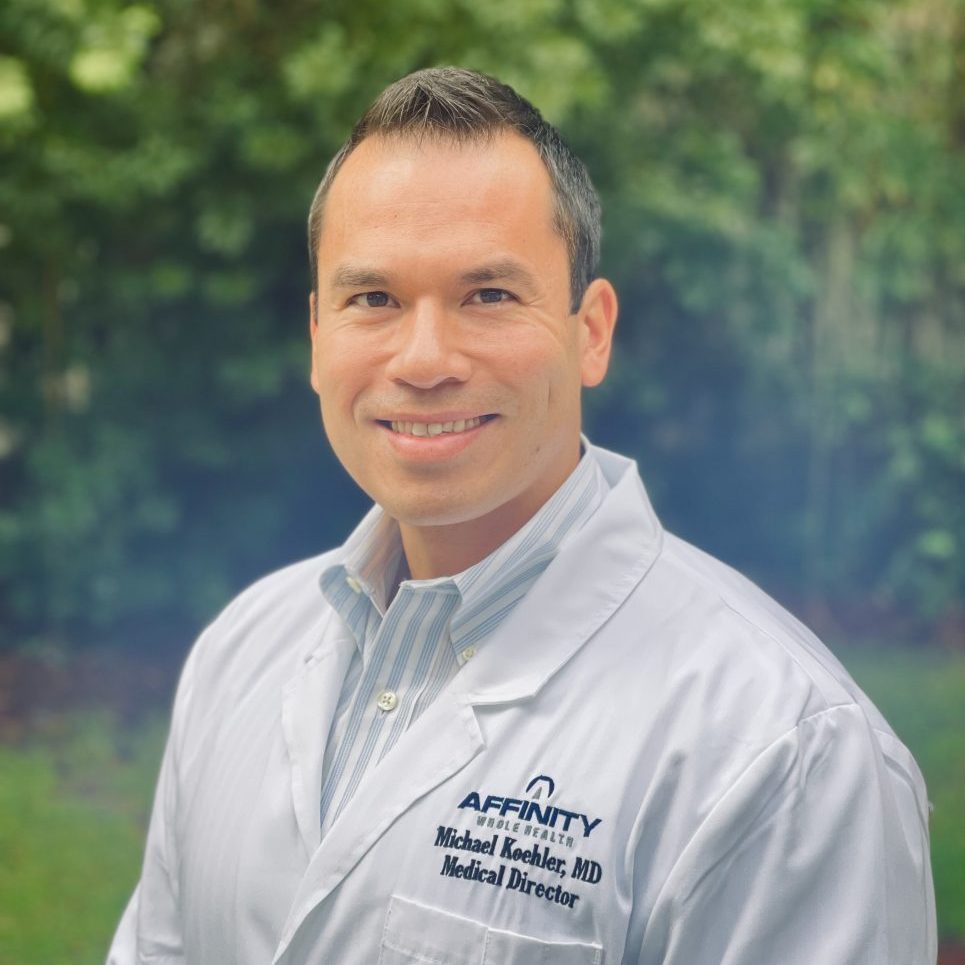 FREQUENTLY ASKED QUESTIONS
Some patients report losing a pound per week or more in their first months of treatment. Results vary based on dosage, starting weight, activity levels and other factors.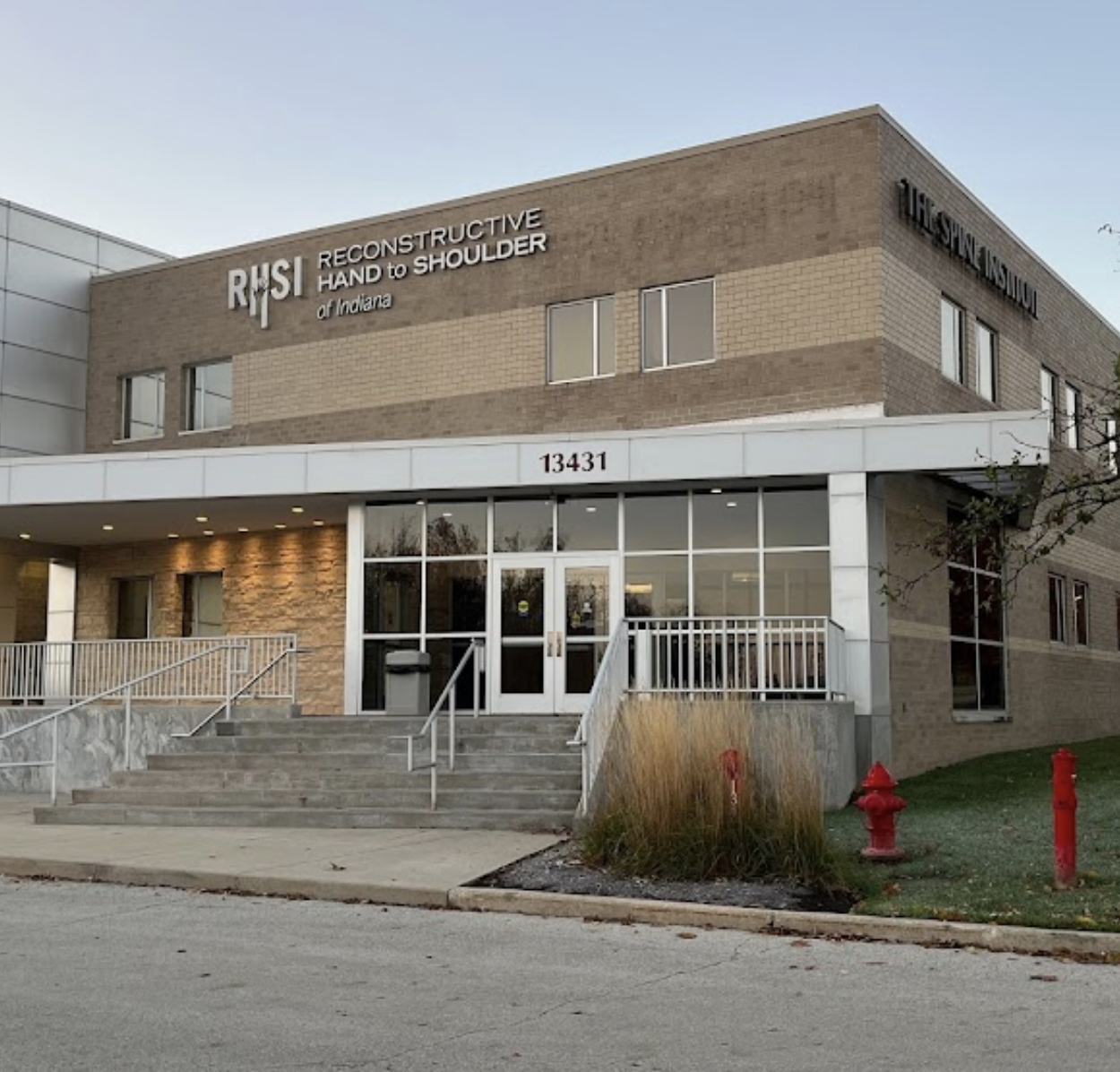 Located at 13431 Old Meridian Street, Suite 110, Carmel, IN 46032